Ogee is proud to partner with award-winning actress and natural beauty muse, Mary-Louise Parker. The acclaimed actress is a star onscreen and off – she's an avid philanthropist and actively leads an organic lifestyle. We are thrilled to announce that our partnership with Mary-Louise Parker will directly give back to charity and the community. Keep reading to see why this glowing beauty swears by our Jojoba Glow Face Oil.
1. Plump Dewy Skin - Unlike other oils for your skin, the "liquid wax" structure of Jojoba Oil is very similar to the natural oils produced by our skin. This allows for it to hydrate the skin, absorbing quickly without clogging pores or leaving a residue on the surface.
2. Natural Healthy Glow- Rich in antioxidants and nutrients, this multi-tasking oil will brighten your skin, leaving a healthy glow. This miracle oil helps tame redness and inflammation, reduces the appearance of fine lines and wrinkles, targets blemishes and breakouts, and balances oil production and pore size.
3. Radiant Youthful-looking Skin - Clinical studies have demonstrated that a single application of pure Jojoba Oil increases skin smoothness. This superior hydrator renews skin cells and improves elasticity, which minimizes the appearance of fine lines and helps prevent the development of wrinkles.
Benefits of Jojoba Face Oil

Once nature's best kept secret, now your own. Jojoba Oil is the secret to healthy, smooth, and glowing skin and the hero ingredient in Ogee's super-hydrating Jojoba Glow Face Oil. 
Jojoba Oil - you don't have to pronounce it correctly (it's ho-ho-ba) to reap its benefits - what really matters is what it does for your skin. Jojoba Oil, long used by Native Americans for its many benefits, is produced from the seed of the Jojoba plant, a shrubby tree that is native to southern Arizona and California. Jojoba Oil is referred to as an "oil" but it is, in fact, a liquid wax - and that makes all the difference.
---
"This liquid gold is booming with antioxidants, nutrients, and healing properties." - Mary-Louise Parker
---
This miracle oil is a "one-size-fits-all", as its biocompatible molecular structure mimics our own produced oil, deeming it safe and effective for every skin type.
Ogee's Jojoba Glow Face Oil is made with the highest possible grade of 100% Jojoba Oil that is grown on a certified organic American farm to assure purity and potency. Our ripening Jojoba Plants in the Sonoran Desert, which when mature, are cold-pressed and enriched with our proprietary essential oil blend and filled into our recyclable glass bottles.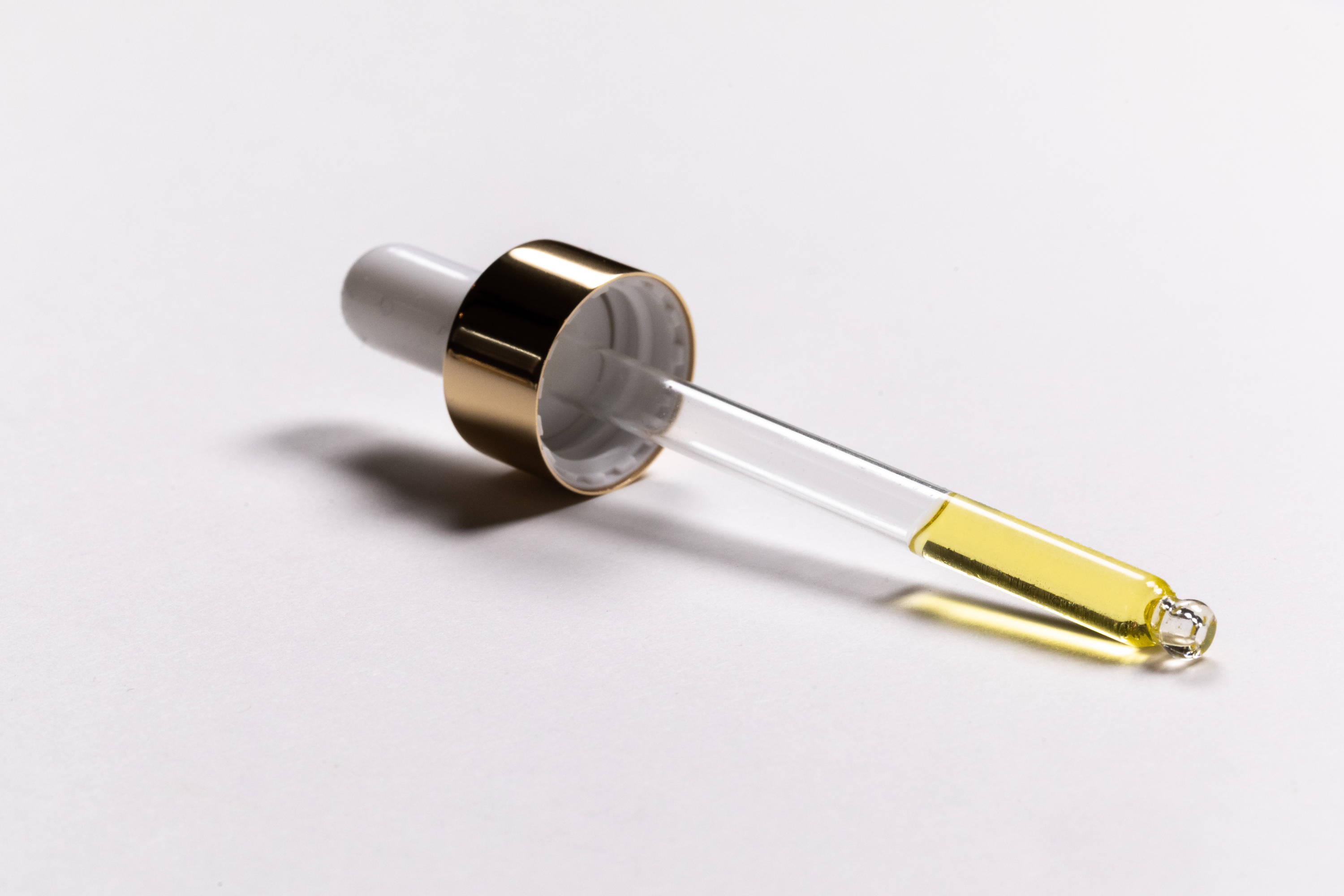 ---
"Good for your skin. Good for the world. Good for the planet." 
- Mary-Louise Parker 
---
The beauty industry is always marketing the latest and greatest skincare trends but none stand up to that of Jojoba Seed Oil - proven tried and true as an all-in-one treatment for your skin. Jojoba Seed Oil has been tested and approved by beauty insiders to replenish & hydrate the skin, while dramatically improving the skin's overall complexion.
Beauty Insiders Swear By Ogee's Face Oil

Beauty Experts can't speak highly enough of this all-in-one hydration treatment. Marie Claire calls Jojoba Oil, the New Oil Boom, in a recent issue where editors visited the certified organic farm in Arizona that grows our golden Jojoba Oil. Ogee's Jojoba Glow Face Oil is cold-pressed to retain all of the antioxidants and nutrients that deliver the highest grade and most potent Jojoba Oil available on the market today.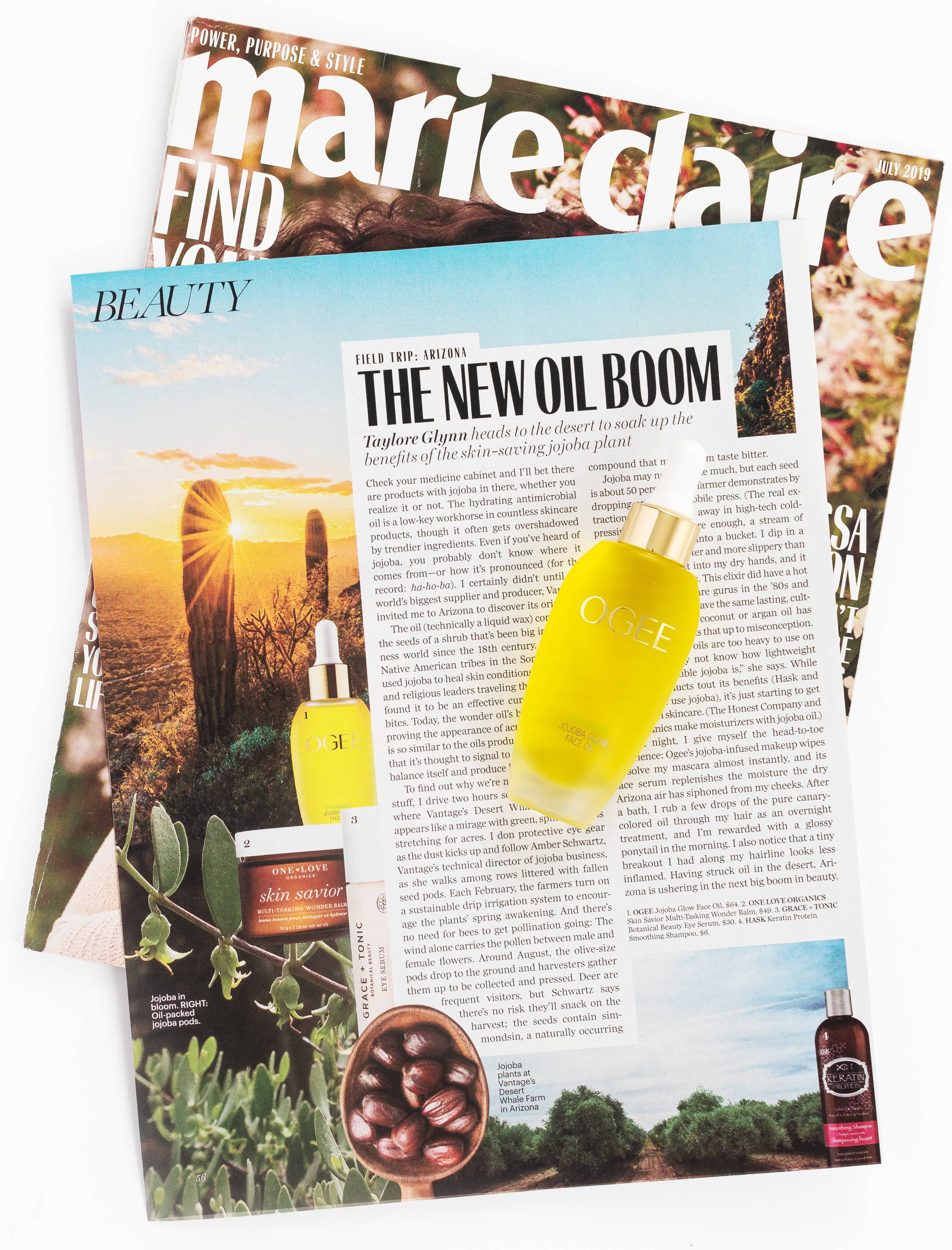 ---
"Jojoba Oil is the first on the (limited) ingredient list of this oil, one of Chang's choices, which blends it with other flower oils and boasts 99% organic ingredients. Plus, a little goes a long way: you only need a drop or two for your entire face. Use it twice daily for glowier, more radiant skin," - Byride
---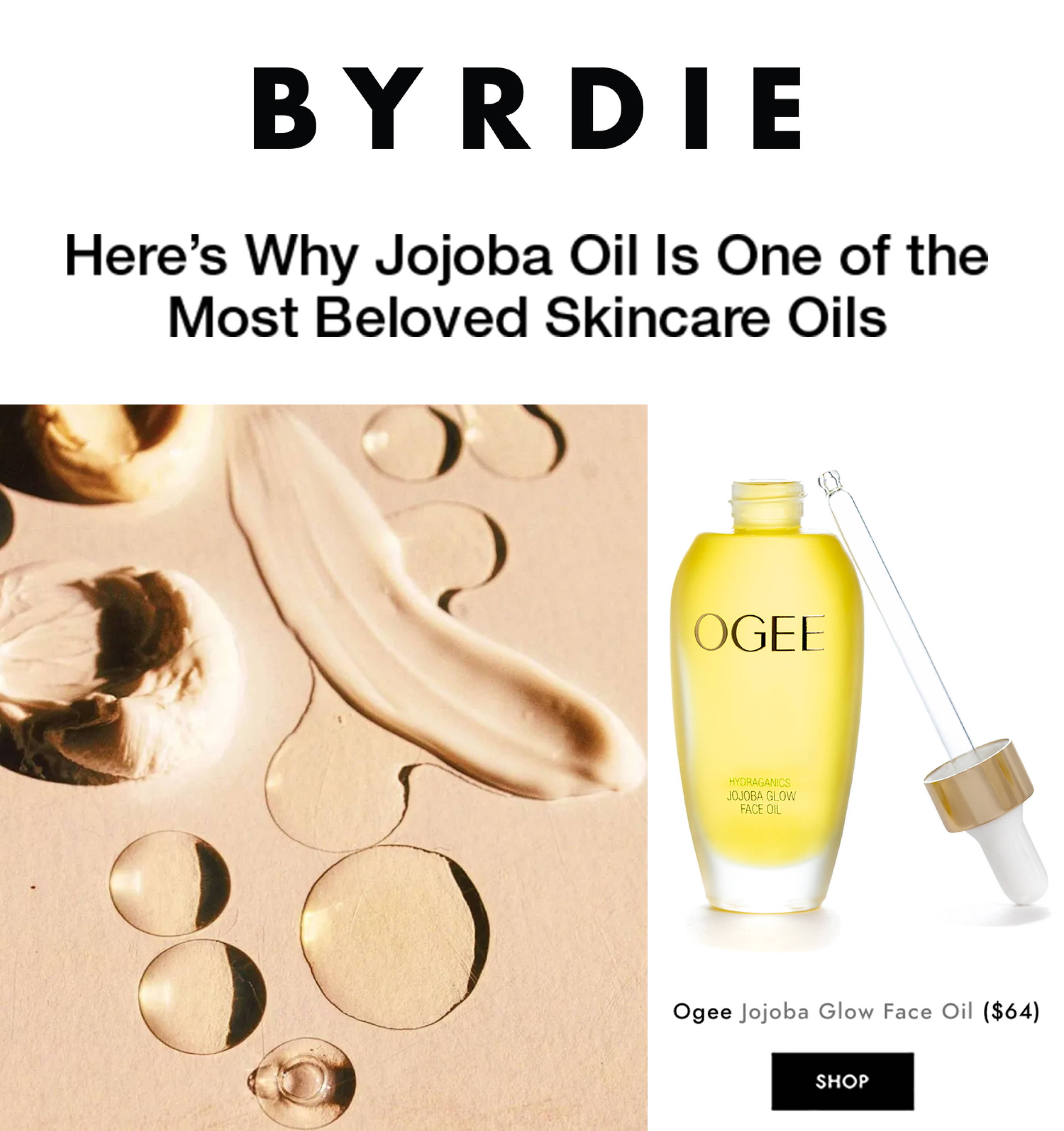 Byrdie, the acclaimed online beauty publication with a cult following, names Ogee's Jojoba Glow Face Oil in their roundup of Best Products with Jojoba Oil. "A little goes a long way... use it twice daily for glowier, more radiant skin," says Y. Claire Chang, MD about how to use Ogee's Jojoba Glow Face Oil. Healthy, dewy, radiant skin, and great for all skin types? It's a no-brainer. Take Dr. Chang's lead and get on board!
Ogee's Jojoba Glow Face Oil is a high performance skin treatment. In addition to using it on her face, neck, and décolletage, Mary-Louise Parker applies a few drops for a whole body hydration; she applies to her hands, elbows, and any other areas that are prone to dryness. Pro Tip: Mary-Louise adds a few drops to her moisturizers and foundations for an added hydration boost. The Jojoba Glow Face Oil also acts as a highlighter, Mary-Louise suggests tapping a few drops onto the cheekbones for a natural, dewy highlight. This multifunctional oil will also combat ingrown hairs and split-ends.
---
Discover this 100% natural and certified organic face oil that instantly moisturizes and restores healthy, smooth, and glowing skin. Jojoba oil is the best oil for skin. Full of essential oils and antioxidants, Jojoba Glow Face Oil replenishes and hydrates to dramatically improve complexion.
Use AM & PM following the Seeds of Youth Serum. Massage 2-3 drops onto face and neck from center outwards.
Certified Organic • Cruelty-Free • Not Tested on Animals • Vegan • Gluten-Free • All Natural • GMO-Free