Dew Kit 101: Tips for Your Recent Purchase
Watch our glowing beauty Taylor apply the Dew Kit in 5 simple steps. See how she layers the products for optimal results. Your gorgeous dewy glow awaits...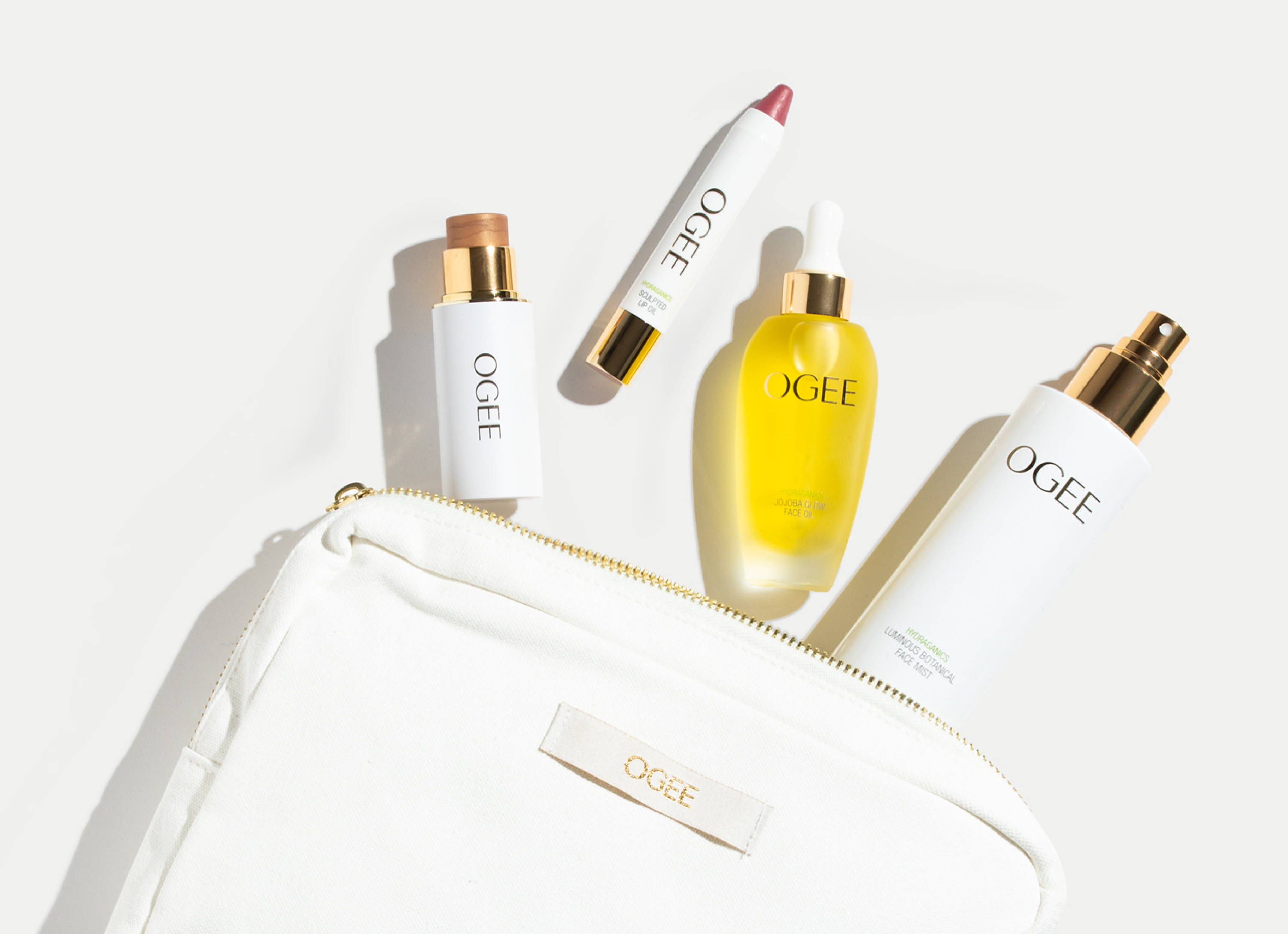 For the first time ever, we've combined our top-selling organic skincare and makeup for easy, everyday grab and glow.
The Dew Kit showcases four of our glowiest products including skincare, face makeup and lip color (full sizes!) in a complimentary Ogee beauty bag.
---
1. Luminous Botanical Face Mist
A moisture-boosting essence that doubles as a makeup setting spray. Prep skin with a spritz of the Luminous Botanical Face Mist to boost the benefits of treatments and control the skin's natural oil production. Apply as needed throughout the day for an added moisture boost and to set makeup with a dewy finish.
2. Jojoba Glow Face Oil
A healing and hydrating anti-aging moisturizer. Apply a few drops generously to the face, including under the delicate eye area for soothing moisturization and to create a smooth, skin-perfecting nourishing base.
3. Sculpted Face Stick (Amber)
A golden sun-kissed bronzer. Apply the Sculpted Face Stick directly to the skin: on cheekbones as a buildable contouring bronzer, on high points of the face as a luminous golden highlighter, and/or on eyelids as a brightening shadow.
4. Tinted Sculpted Lip Oil (Rosalia)
A dusty rose colored lip treatment. Swipe Rosalia on the lips for a soft, dusty rose shade, or create a more opaque look with extra applications; additionally, add Rosalia to the apples of the cheeks for a natural flush of blush.
---
1. Use a little extra Jojoba Glow Face Oil overtop makeup as a dewy highlighter on the cheekbones.
2. Reapply the Luminous Botanical Face Mist as needed throughout the day for a refreshing moisture boost.
3. Cleanse the skin pre-and-post makeup application with our Liquid Gold Cleansing Oil, a gentle-yet-effective makeup removing cleanser.
4. Complete the makeup look with our Sculpted Face Sticks in Carnelian and Rose Quartz for a hydrating cream blush, perfect for adding an extra flush of color to compliment Amber.
Every product is formulated with our hero ingredient: cold-pressed organic Jojoba Oil. Full of essential oils and antioxidants, Jojoba Oil replenishes and hydrates the skin to drastically improve complexion and smooth the face and lips.
Non-toxic and cruelty free, our entire skincare and makeup collection is certified to the NSF Organic Personal Care Standard to ensure only the highest quality and safest ingredients are used.
---
---